Start your future now! Time for a new sustainability!
⁄ From inner to outer sustainability – living and doing business in a responsible and sustainable way.
⁄ The world is changing globally: The effects of our actions in the last decades can be seen for example in increasing perception of stress and an overheated climate and are becoming tangible. Many people can feel this within themselves and see it in the outside world.
Therefore, we are looking for answers to these questions: What is really, really important to us? How can we live and do business today in a way that is both good and suitable for our grandchildren? What does this mean for responsible corporate management and product development?
In their everyday working lives, many people do not have the space to sort themselves out and thus ensure their inner sustainability. A mindful attitude, however, is the basis for successful implementation of the so important external sustainability for people and the environment.
Learning the tools for this is essential to shape the future successfully. Workshop leader Christine Pehl has developed a fresh approach for more inner and outer sustainability.
She shows how a new thinking can be used to successfully shape the future of a company and with a new motivation.
⁄ The workshop is aimed at people and companies who want to take an inward look in order to act sustainable on the outside with success and energy.
Understanding the concept of sustainability and current developments in our world
Developing inner and outer balance and thus creating free space
Re-acquire to look at what is essential
Sensitive handling of resources in work and private life
Creating awareness for taking responsibility and its limits
Time of refilling with meaning, joy and fresh motivation in everyday professional life
⁄ There will be impulses from the workshop leader, opportunities for dialogue and exchange, time for self-reflection and specific exercises.
⁄ The seminar can be arranged as a half-day or a full-day seminar.
⁄ The workshop is designed for approx. 10 participants.
Fee for preparation and execution
⁄ Christine Pehl: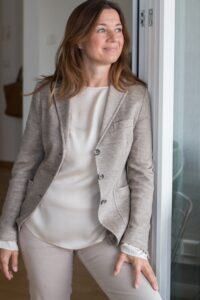 Workshop moderator and seminar instructor, lecturer on inner and outer sustainability, business coach. Worked for many years in management positions in the field of sustainable businesses and won the "Ethics in Business" award.
Managing director of her parents' mechanical engineering company and assisting in the handover of the company to the employees. Founding member of the social enterprise "Papilio" to strengthen social-emotional competence at a young age.
Since 2010 self-employed as a business coach, seminar instructor and lecturer for sustainable living and business. Lectures, seminars and workshops in companies, organisations and training institutes.
Author of various publications, including the series "CSR & Organisational Development" published by Springer Gabler Verlag.
If you are interested, please contact us: info@lifecare.network. If you have any further questions, don't hasitate to conact us.
Further LifeCare.Network Workshops
Simply Design Thinking!
Einführung zur Innovationsentwicklung mit Design Thinking und Protoyping – Ihr Kunde im Mittelpunkt.
Internal and external sustainability
Von der inneren zur äußeren Nachhaltigkeit: verantwortungsbewusst, nachhaltig leben & wirtschaften.
Resilience in agile times.
Bei allen Herausforderungen und Aufgaben des Alltags die Kraft von innerer Ruhe und Gelassenheit nutzen.