Resilience in times of change
⁄ Harnessing the power of inner calm and composure facing the challenges of everyday life.
⁄ In our performance-oriented society many people have neglected the all-important "self-care". Sick leave due to mental health problems is now in first place! Managers in companies are confronted with ever-increasing demands in their daily work.
For example, they have to complete their own tasks on time and at the same time lead and motivate employees in order to achieve predefined goals. Working from home requires rapid reorganisation and the efficient use of new communication channels. In agile times, only those who have the tools to get into balance again and again can be good supervisors and contact persons for their environment.
This workshop is about a pragmatic and easy-to-implement approach to develop and increase inner balance. Focus is on impulses for balance in everyday life, supplemented by exercises and the conscious perception of one's own needs.
With this attitude awareness for colleagues and employees is also raised in order to achieve company goals together with energy and a new motivation.
⁄ The workshop is intended for managers who are looking for a way to put the individual – themselves and their employees – more in the focus again in their everyday working life.
Introduction to resilience and agility
Three specific steps to achieve inner balance
Self-reflection on the topic of 'commitment'
Impulses for balancing our 'four levels'
Pragmatic ideas and exercises for everyday working life
Time for personal questions
⁄ There will be impulses from the workshop leader, opportunity for dialogue and exchange, time for self-reflection and specific exercises.
⁄ The seminar can be organised as a half-day or a full-day seminar.
⁄ The workshop is designed for approx. 10 participants.
Fee for preparation and execution
⁄ Christine Pehl: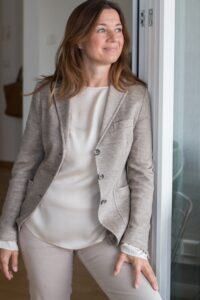 Workshop moderator and seminar instructor, lecturer on inner and outer sustainability, business coach.
Worked for many years in management positions in the field of sustainable businesses and won the "Ethics in Business" award. Managing director of her parents' mechanical engineering company and assisting in the handover of the company to the employees.
Founding member of the social enterprise "Papilio" to strengthen social-emotional competence at a young age. Since 2010 self-employed as a business coach, seminar instructor and lecturer for sustainable living and business.
Lectures, seminars and workshops in companies, organisations and training institutes. Author of various publications, including the series "CSR & Organisational Development" published by Springer Gabler Verlag.
If you are interested, please contact us: info@lifecare.network. If you have any further questions, don't hasitate to conact us.
Weitere LifeCare.Network Workshops
Internal and external sustainability
Von der inneren zur äußeren Nachhaltigkeit: verantwortungsbewusst, nachhaltig leben & wirtschaften.
Strategies for the future!
Nachhaltige Strategien für Ihre Innovationsfelder definieren, die Kunden begeistern.
Simply Design Thinking!
Einführung zur Innovationsentwicklung mit Design Thinking und Protoyping – Ihr Kunde im Mittelpunkt.